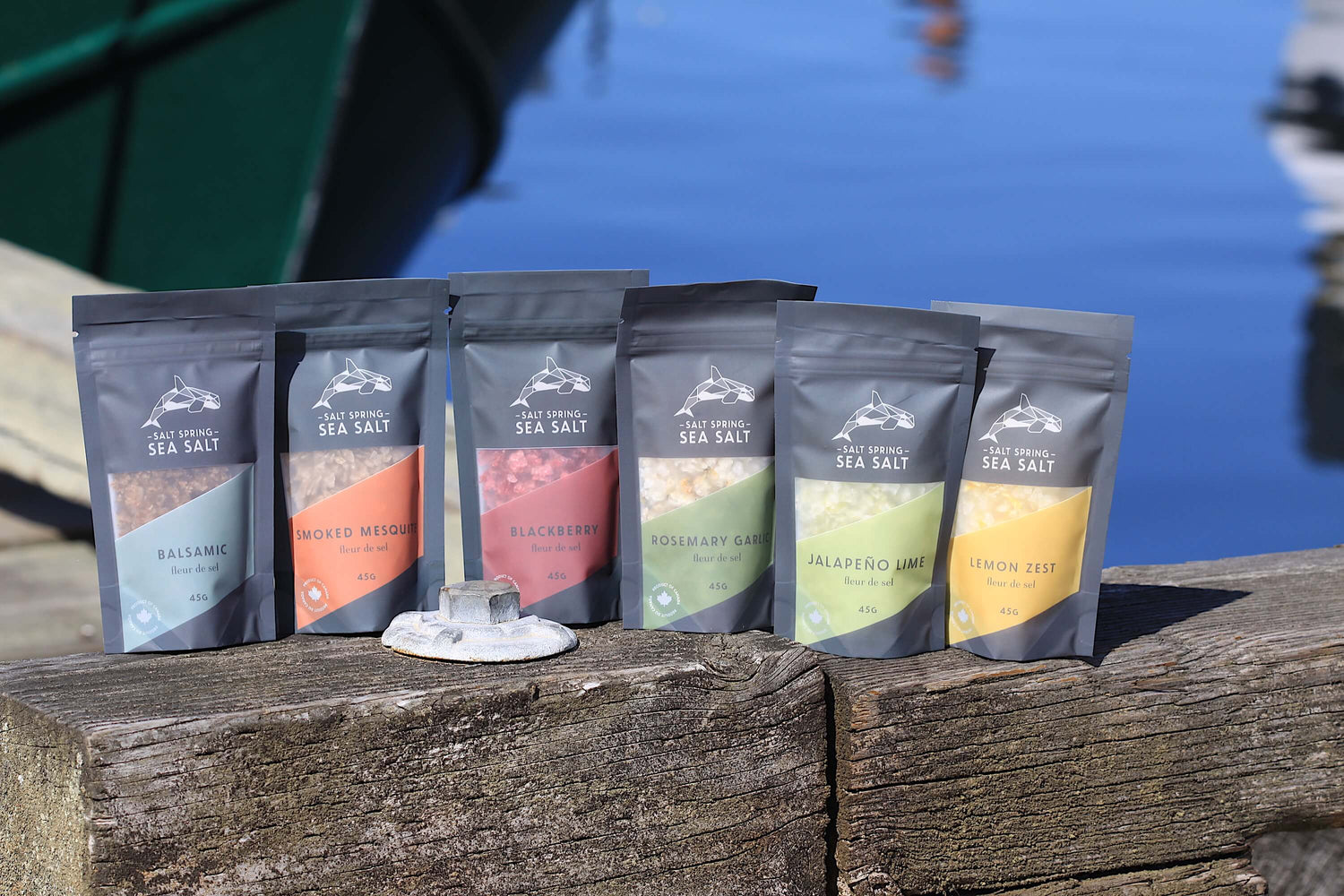 100% Canadian made
Salt Spring Sea Salt is the only craft salt company to offer this unique line of premium infused Fleur de Sel products.
Situated on Salt Spring Island, we are proud to be the only Canadian producer of Fleur de Sel finishing salt crystals.
The style of our salt products is easy to see and amazing to taste. We have been making Fleur de Sel sea salt crystals since 2014. We are passionate about how our salt's sweet/saltiness adds delight and enhances flavours in our experience of foods. Chefs of all calibres recognize the quality of our Fleur de Sel products.
Salt Spring Sea Salt is the only salt company in the world to offer this unique line of premium infused fleur de sel products.
Our Mission
we passionately reveal the hidden potential of our local salt waters
creating beautiful and flavourful salt crystals
providing service that makes you smile
to surprise and delight the tastebuds of as many chefs and food lovers as we can
redefining the way food is appreciated all over the world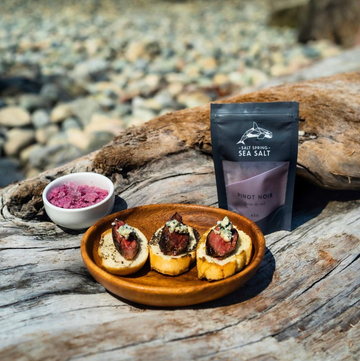 It's really important to understand that salt truly has transformative powers when added to food.
It doesn't take much, but the difference a bit of salt can make to our culinary creations is extraordinary. And this is available to chefs of all skill levels. 
In the News
Salt Spring Sea Salt is getting noticed for many reasons, from the purity of the product and process, to the exceptional taste. As a result, it can turn an ordinary meal into a culinary experience. It is catching the attention of foodies, celebrity chefs, even the Royal family! Salt Spring Sea Salt had the honor of serving it to the Duke and Duchess of Cambridge during their recent visit to Canada.

Salt Spring Sea Salt was also showcased on Chuck & Danny's Road Trip to Salt Spring Island. The episode entitled "Salt of the Earth" has aired on Food Network Canada and Netflix in the U.S., and continues to boost national and international awareness and sales.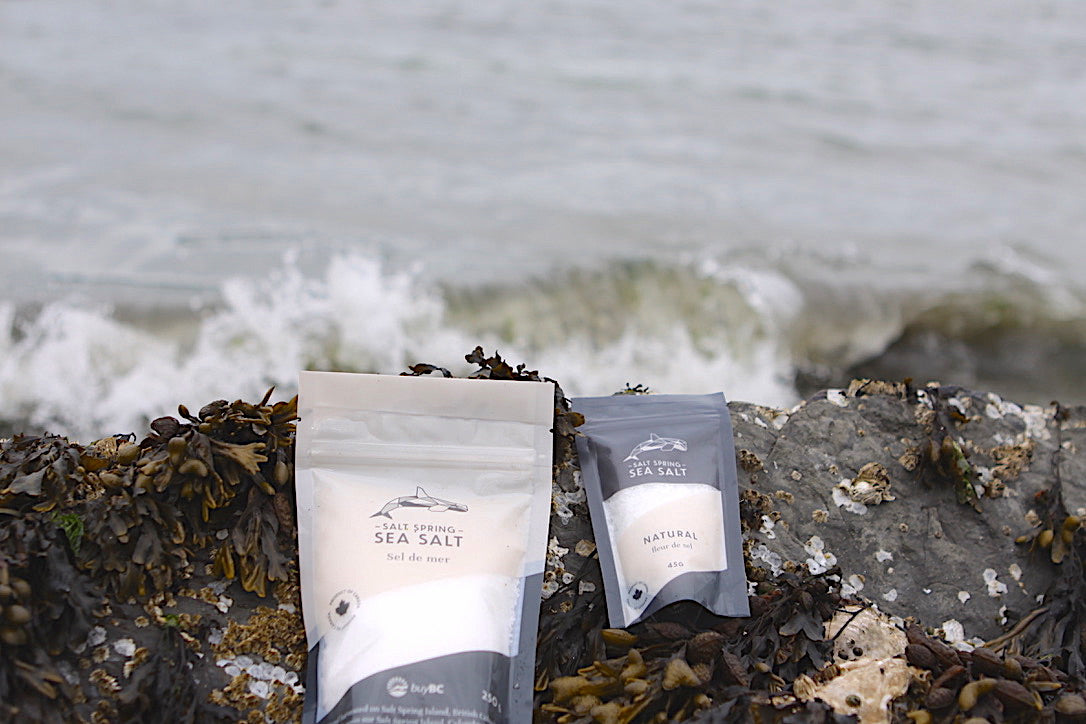 ENVIRONMENTAL RESPONSIBILITY

We take our environmental responsibility very seriously. We recognize our role in ensuring we do as much as we can to maintain a light eco footprint.

We have an advanced recycling program where we have figured out how to have almost no waste. And we continue to seek refinements that bring us closer to eliminating any waste altogether. We are researching new methods of production that are extremely energy efficient and planet friendly too with the hope of being ever more eco friendly in all aspects of our operations.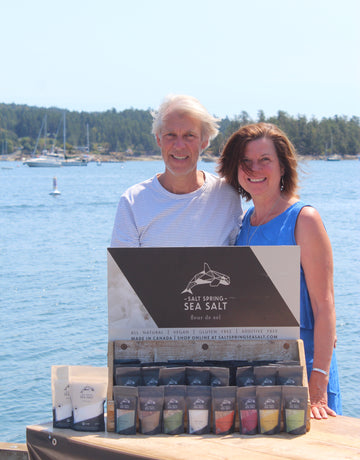 Who we are
Conny Classen and Robert Steinbach together bring over 40 years experience in the hospitality sector to bear on the re-energized Salt Spring Sea Salt Ltd. Known as chefs, caterers, food lovers and wine enthusiasts, Robert and Conny bring their business acumen to the salt business at a time when demand for these high quality, hand-crafted locally sourced products is growing quickly.
The founders of Salt Spring Sea Salt were Philippe Maril and his wife Carolyn. It was Philippe's French upbringing and the influence of his late grandmother's culinary prowess that inspired him to begin making Fleur de Sel – the finest finishing salt – here in Canada. Since 2014, the company has been making salt products starting with the waters of the Salish Sea. Philippe passed away in 2022.
"The chocolate Fleur de sel is exceptional. From the deep chocolate flavour, colour and the pieces of cacao nibs this salt is the perfect finishing touch to any chocolate dessert. Used to finish my signature Marilena Chocolate Bar, it accentuates and complements all the flavours in the dish. Making it the perfect finishing touch!"
- Dominique Laurencelle, Pastry Chef at Marilena Cafe & Raw Bar